Staging & Backline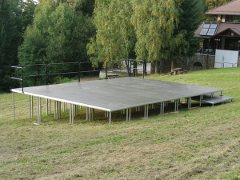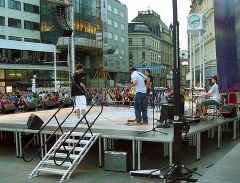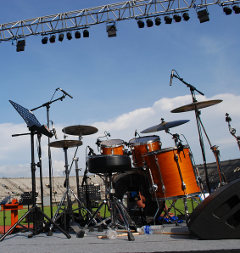 Once you've got your stage sorted for your big event, it's time to think about what goes on the stage. We can help.
Stage  Risers
Above Productions have a full range of stage risers for your needs. For most events, a flat stage is a boring stage. Risers can be used to build dynamics and fullness into the look of the stage.  You might like tiered risers for a 100 piece choir, a central piece riser for the drum kit, or even a lower extension off the front of the stage.  Our risers can also be used for small stand-alone stages.
Above Productions use the robust Prolyte StageDex make of risers. Designed for indoor or outdoor use. 

Full Backline
As well as providing quality sound and lighting gear, plus the technicians to run it all, and the stage risers for your stage, Above Productions can also provide the full backline you'll need on stage:  Drums, keyboards, bass amp, guitar amps, microphone stands … the works. 
Tell us what you need and we can arrange the whole set up.  Stress-free for you.